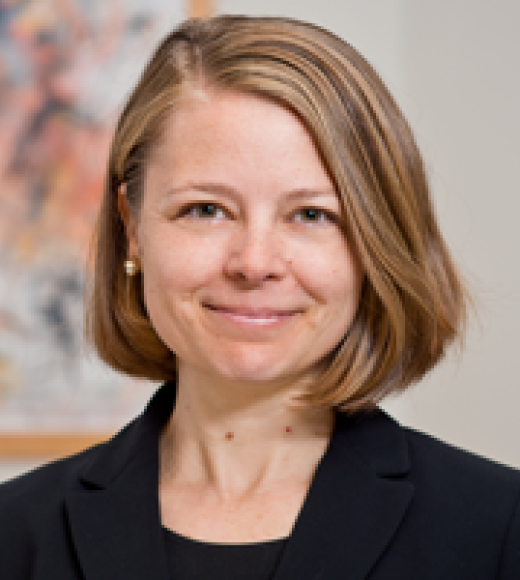 Office Hours
Thursday 12-2pm
Bio
Education
Ph.D., Economics, Johns Hopkins University, 2005
M.A., Economics, Johns Hopkins University, 2001
M.S., Agricultural and Applied Economics, Virginia Polytechnic Institute and State University, 1996
B.A., Economics major, East Asian Studies minor, College of William and Mary, 1994
About
Katheryn Russ is Professor and Chair of Economics at UC Davis, with expertise in open-economy macroeconomics and international trade policy. She is a faculty research associate in the National Bureau of Economic Research International Trade and Investment Group and Co-Organizer of the International Trade and Macroeconomics Working Group. She is a member of the Econofact network, President of the International Economics and Finance Society, and Vice President of the International Banking and Finance Association, and Visiting Scholar at the Federal Reserve Bank of San Francisco. She served as Senior Economist for International Trade and Finance for the White House Council of Economic Advisors 2015-16 and Co-Editor-in-Chief for the Review of World Economics 2021-22. Previously, she has been a visiting scholar at a number of central banks; a research advisor at the Halle Institute for Economic Research in Halle, Germany; and Senior Non-Resident Fellow of the Peterson Institute for International Economics. She has written numerous articles on international trade and finance, including for the Journal of International Economics; the Journal of Money, Credit, and Banking; American Economic Journal: Macroeconomics; the Harvard Business Review, and the Lancet. She often speaks on international trade and finance in outlets such as Chicago Tribune, Economist Magazine, Newsweek, New York Times, NPR, Wall Street Journal, and Washington Post.
Research Focus
Professor Russ conducts research on international trade and investment, including their macroeconomic outcomes and their relationship to global public health.
Publications
Marketing of commercial milk formula: a system to capture parents, communities, science, and policy (with Nigel Rollins, Ellen Piwoz, Phillip Baker, Gillian Kingston, Kopano Matlwa Mabaso, David McCoy, Paulo Augusto Ribeiro Neves, Rafael Pérez-Escamilla, Linda Richter, Gita Sen, Cecília Tomori, Cesar G Victora, Paul Zambrano, and Gerard Hastings on behalf of the 2023 Lancet Breastfeeding Series Group) The Lancet 401: 486–502, 2023. DOI 10.1016/S0140-6736(22)01931-6
Corporate lobbying on US positions toward the World Health Organization: Evidence of intensification and cross-industry coordination (with Phillip Baker, Manho Kang, and David McCoy) Global Health Governance: The Scholarly Journal or the New Global Health Paradigm 17(1): 37-83.
What You Don't Know about the Codex Can Hurt You: How Trade Policy Trumps Global Health Governance in Infant and Young Child Nutrition (with Phillip Baker, Michaela Byrd, Manho Kang, Rizki Siregar, Hammad Zahid, and David McCoy) International Journal of Health Policy and Management 10(12): 983-997, 2021. DOI 10.34172/IJHPM.2021.109
The Politics of Regulating Foods for Infants and Young Children: A Case Study on the Framing and Contestation of Codex Standard-Setting Processes on Breast-Milk Substitutes (with Monique Boatwright, Mark Lawrence, Cherie Russell, David McCoy, and Phillip Baker) International Journal of Health Policiy and Management 11(11): 2422-2439, 2021. DOI 10.34172/ijhpm.2021.161 
Globalization, first-foods systems transformations and corporate power: a synthesis of literature and data on the market and political practices of the transnational baby food industry (with Phillip Baker, Manho Kang, Benjamin Wood, Rob Moodie, David Clark, Katherine Sievert, Monique Boatwright, and David McCoy) Globalization and Health 17:58, 2021. 21) 17:58, 2021. DOI 10.1186/s12992-021-00708-1
Trade Shocks and the Shifting Landscape of U.S. Manufacturing (with Katherine Eriksson, Jay C. Shambaugh, and Minfei Xu), Journal of International Money and Finance 111: 102254, 2020.
Trade Deficits and Trade Diversion: The case of the Korea-U.S. Free Trade Agreement (with Deborah Swenson), Journal of the Japanese and International Economics 52(1): 22-31, 2019.
Financial Choice and International Trade (with Silvio Contessi and Ilhyun Cho), Journal of Economic Behavior and Organization 157: 297-319, 2019.
In Search of the Armington Elasticity (with Robert C. Feenstra, Philip Luck, and Maurice Obstfeld), Review of Economics and Statistics 100(1): 135-150, 2018
Russ, K., and B. de Blas. "Understanding Markups in the Global Economy." American Economic Journal: Macroeconomics (forthcoming).
Russ, K., F. Bremus, C. Buch, and M. Schnitzer. "Big Banks and Macroeconomic Outcomes." The Evolution of Thought on Banking Regulation (tentative title). Ed. Jon Danielsson (in press). London: VoxEU eBooks
Russ, K., S. Contessi, and L. Li. "Bank versus Bond Financing over the Business Cycle." Economic Synopses 31 (November 2014): 1–3.
Russ, K., and B. de Blas. "Hymer's Multinationals." Journal of Economic Behavior and Organization 94.C (2013): 381–392.
Russ, K., and D. Valderrama. "A Theory of Bank Versus Bond Finance and Intra-Industry Reallocation" (NBER Working Paper, No. 15454). Journal of Macroeconomics 34.3 (2012): 652–673.
Teaching
Professor Russ teaches undergraduate courses in international microeconomics, international macroeconomics, and the economy of East Asia, and graduate courses in international trade. She supervises research by both undergraduate and graduate students. 
Awards
National Science Foundation ($46,316): "Systemic Risk in Financial Intermediation: An International Perspective," 2012
Volkswagen Foundation (103,000, part of 675,000 project led by Claudia Buch, University of Tuebingen): "Europe's Global Linkages and the Impact of the Financial Crisis: Policies for Sustainable Trade, Capital Flows, and Migration," 2011
FHI360-Alive and Thrive/Gates Foundation Grant ($137,224): "The Economics of Health Hazards in Trade Policy: A Case Study of Marketing of Breastmilk Substitutes"
University of California, Davis: Thomas Mayer Award for Distinguished Teaching in Economics (graduate and undergraduate), 2010 & 2022
Outstanding Service in the Executive Office of the President (EOP) of the United States, 2016
University of California Davis Academic Senate Award for Distinguished Scholarly Public Service, 2020

University of California (Systemwide) Academic Senate Mid-Career Leadership Award, 2023
Tags